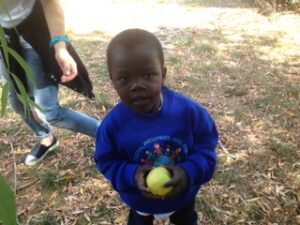 Dear Parents,
We have left behind the very first month; full of excitement… full of joy… It is so nice to see new friendships and happy faces at the school. I am sure that it is a pleasure for you to hear your child's first English words and to notice his/her social, physical, emotional and intellectual improvement
Our first field trip was to Ms. Ebru's farm for the Apple Orchard. Our children were happy to pick apples and take them home.
Red day was full of fun. I am sure now everybody knows what red is. Thank you for sending your child with a red item.
ANNOUNCEMENTS OF THE MONTH
October 21, Halloween Parade (No school after the party)
Each child will be asked to come to school in a simple costume. The children will form a parade in the front yard (depending on the weather) and get back inside to sing Halloween Songs. Our parade will begin on schedule. We ask that all parents arrive on time and are ready outside with cameras before the parade. We are all very excited for this very first performance of 2016-2017 school year!!!!!!
October 26, Field Trip to the Esat Fire Station,
October 27, Orange Day. Please make sure that your child has something Orange that day. They will be very upset if you forget.
October 28, Anniversary of the Turkish Republic
Please check our website/facebook page regularly for the photos of our daily activities.
Scholastic Book Club has started. If you would like to order books please contact the office.
We'd love to "Reuse". Please provide jars, plastic bottles, egg cartoons, etc.
Due to the temperature changes children are more vulnerable to sicknesses. Please send your child with appropriate and labeled clothing. I would like to remind you our illness policy in order to provide a jerm free environment for our children.
ILLNESS POLICY:
If your child comes to school when he/she is not feeling well, he/she will be more vulnerable to infections. It is in the best interest of your child and of other students at the Preschool that your child rests at home when he/she has diarrhea or fever.
If a child has recovered enough to come to school, we expect him/her to participate in outdoor activities with the class.
In case of any absence exceeding 2 days a brief notice will be much appreciated. In case of contagious illnesses, please notify school as soon as possible to allow us detect similar symptoms in other children and prevent multiple infections.
Teachers are not allowed to administer any medication (including prescribed drugs) in order to avoid any liability.
THEMES OF THE MONTH:
Fire Prevention
Halloween
Donation & Recycling
Color of the month; Orange
BIRTHDAYS OF THE MONTH
You are welcomed to celebrate your child's birthday with his/her classmates. Please inform the office prior to the date.
Mohammad October 12
Najeeb Al Sadu October 22
Happy Birthday To You All !!!!
EBRU ERBİLGİN
Director