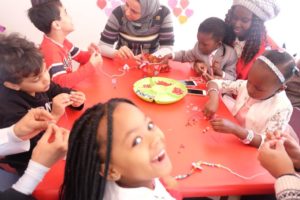 Dear Parents,
We had a busy month in February at the Preschool. After the kids received their 1st term Report Cards at the end of January, we had the individual parents meetings with our parents and talked about their overall development at school and at home. We'd like to thank to all the parents who participated in the Valentine's Day workshop. The art projects, in which the parents assisted their kids to complete them, were full of fun. We always enjoy seeing our parents and children working together as a team. Each class enjoyed exchanging cards with each other as well.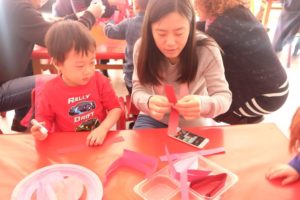 Pre-K & KG students celebrated the 100th Day of School on Feb 24th. They made a delicious necklace out of fruity cereal. They practiced counting to 100 by seperating 100 pieces of cereal before they stringed them through a plastic needle and string. It was fun, yummy and very educational!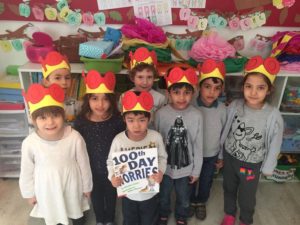 Many thanks to our parents who took time out of their busy schedules and presented their jobs and told us about their careers. Mrs. Selin Erdil (YN- Ege's mom), who is an academician, told and showed us how the university teachers taught lessons to university students at the university. She selected some kids who pretended to be her university students in her class in which the table setting was different from the one they were used to.
A group dentists from the Dental Esthetic Group (Tahran Str., Kavaklıdere) visited our school. They talked about teeth care, cavities and dental health. They used tooth models and animations to demonstrate us how to brush our teeth. It was a fun and interactive presentation which the kids enjoyed a lot.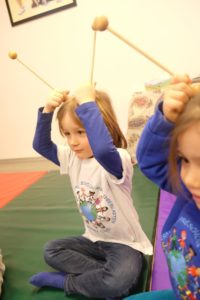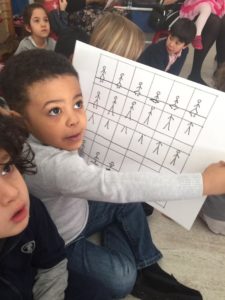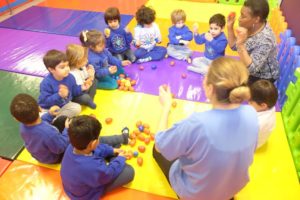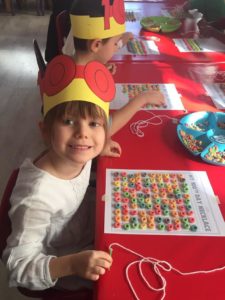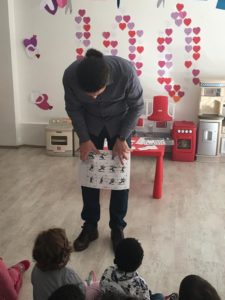 Mr. and Mrs. Oter (KG- Çınar's parents) are musicians of classical Turkish music. They are both academicians at the Gazi Uni. Fine Arts and Music department. Mr. Oter played 'oud' and Mrs. Oter played 'tambourine' to demonstrate us how they sounded. Mrs. Oter let the kids try the tambourine'. Then they both sang a classical Turkish song.
Lastly, Mr. Safak Dikmen (KG- Toprak's parents' friend), who is an academician at the Ankara Uni. Radio Television and Cinema, talked and demonstrated us how basic animated cartoon was done. Since animation films are kids' favorite, our children participated with Mr. Safak with great interest. They were surprised about what they experienced.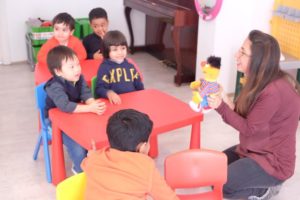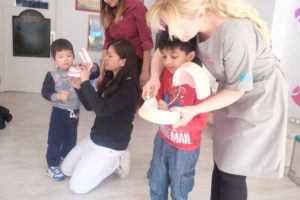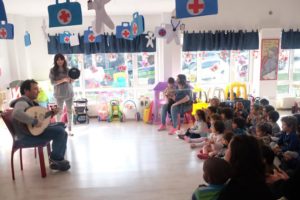 We visited the music teacher Mrs. Feryal Sehirlioglu at the Music4Kids and had a wonderful musical experience. Our children played different types of musical instruments, danced to thr rhythm of the music, and had musical fun with paraschute and ribbons. Thank you Mrs. Sehirlioglu for this experience.
ANNOUNCEMENTS
 You will find a "Donation Box" at the entrance. Please bring unused items such as clothes, toys, etc. We would like to teach our children the importance of sharing.
 March 1 : Book Character Costume Parade
 March 3 : Dr. Seuss Birthday
 March 10 : World Math Day
 March 17 : Wash Your Hands Day
 March 24 : A Day in the Upper Grade (parents are invited; school is half-day)
 March 31 : Easter Egg Hunt and Green Day
 April 3 – 7 : SPRING BREAK (no school)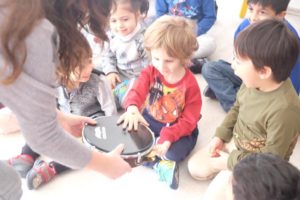 THEMES OF THE MONTH:
Word Book Week
World Math Day
Wash Your Hands Day
Easter
Easter Egg Hunt
Donation & Recycle
Color of the month: Green
MARCH BIRTHDAYS:
Hazel Savas March 2
Naledi Malefane March 7
Abdulmohsen Alasfoor March 8
Jiayi Li March 19
Ean Grosso La Valle March 27
Efe Efecınar March 29
Happy Birthday to you all 
Have a wonderful month
EBRU ERBİLGİN
BANU ENGİZ